Reviews for
WISHDAUGHTER
(published 4th March 2004)
"a great labour of love by a truly erudite author - there aren't many like him nowadays" Amanda Foreman, author of Georgiana, Duchess of Devonshire
"a real page turner" Andrew Davies, dramatist of Pride & Prejudice and Middlemarch
" Adrian Mourby has written a strange, haunting thriller about fatherhood, love, and different levels of betrayal. The Wagnerian theme and plot underpin the story of a modern marriage with a layer of uneasy, powerful emotion from long ago. It is compelling, and sad, and truthful, and very readable indeed."
Libby Purves
Wishdaughter, by Adrian Mourby / Review by Nigel Rodenhurst / Anglo Welsh Review 2004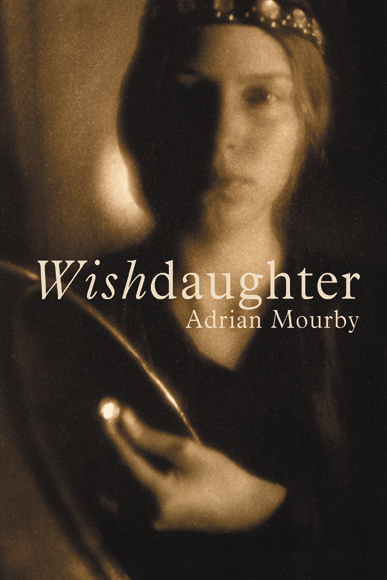 Wishdaughter charts a few months in the life of Bill Wheeler (like Mourby, a forty-something opera correspondent, living in Welsh border country) who is assigned to travel to Israel in search of sound-bites on the Wagner question. There a series of chance events put him in possession of a letter that it is claimed will ensure that Wagner will never be played in Israel. This is the catalyst for Libby Ziegler, an American academic who figured in the breakdown of his marriage seven years ago to re-enter his life, and for the conflicts of that period to resurface. The letter itself contains the suggestion of two scandals, a confirmation of Wagner's barely contested anti-Semitism, and an incest slur involving his step-daughter.
Adrian Mourby is a prolific opera critic, producer and journalist. He has written repeatedly on cultural issues including anti-Semitism in art and history and contemporary issues of independence, such as devolution and language issues in Wales and Canada. He supports arguments which separate the man from the music in Wagner's case. On the political side, he shows no overt support of any militaristic or genocidal action, but does at times extol assimilation as a relatively benign vehicle of historical change.
Politically Wishdaughter is predictable and a little dogmatic at times, with Wheeler often espousing Mourby's stances regarding assimilation (relating to Jews and the Welsh), which are reflected in the overall structure. The novel begins with an embittered holocaust survivor, who Wheeler sees as reptilian, telling him please don't ask my generation to forgive. At the end a Jew named Schmidt calls the tendency to judge Wagner an example of the common failing of his people. Using the leitmotif of private correspondence being read by the wrong person Mourby also differentiates between the permanence of the written word and the transient emotion and commitment of the human soul, which serves ultimately to detract from Wagner's own written transgressions. This perhaps reinforces Mourby's notion that Wagner's anti-Semitic writing should not be linked directly to actual atrocities committed after his death.
Despite this, Wishdaughter does demonstrate the aptness of fiction to critically represent all sides of complex political issues. One way that this is achieved is through Wheeler's frequent unawareness of anti-Semitic undercurrents to his own actions, particularly in his sex-life. Besides his wife Tamsin, a daughter of survivors and Ziegler, whose grandfather married out, Wheeler has a casual involvement with a neighbouring farmer, Marika, whose mother fled the Eastern-bloc to become a sexually exploited worker in Wales. When he has sex with Marika he is lost in the grip of something black and dangerous when he pin(s) her back, exposed and vulnerable, beneath him. This pattern, in conjunction with the heritage of the women puts the reader in mind of the violent, subjective sexuality often associated with Nazism and is repeated in his relations with Ziegler.
He is also disturbingly insensitive to Tamsin's wish to possess their daughter's passport, discounting her explanation of the historical importance of the document to Jews: Bill hated it when women talked bollocks and then cried. And yet consciously he loathes Nazis, at one point transferring his distaste to German, which he calls a vicious, autocratic language. When he confronts the possibility of losing contact with his daughter Reah, whose appearance is strikingly Jewish, he pictures the two of them in the forest around his house, as death camp victims. Contemplating the combined power of the mother's parental rights and the patriarchal assertiveness of Tamsin's father unleashed, he caricatures them much as he would an actual Nazi. At the end of the novel Wheeler does learn something about himself and his attitudes towards the women in his life. His developing perception of the ambivalence of the oppressor/victim relationship helps him warm to Wagner who he had previously detested. This is especially the case where the incest slur implied in the letter is concerned, as Wheeler himself is unjustly accused of a similar transgression.
Combining conventions of the international espionage thriller and a tortured love story, Wishdaughter draws the reader in and Mourby will no doubt impress readers with his erudition on the subject matter. It is also worth mentioning some marvellous understated satire of the sophisticated American academic. When Ziegler, whose only experience of Britain is London, comes to Chepstow, complete with its Pizza Express, a video shop that sells popcorn and an Indian restaurant, she thinks she's in an Arthurian Neverland. Something about the scene reminded me of the time George Bush asked Charlotte Church what state Wales was in. Wishdaughter certainly contains enough humour and human interest to keep the pages turning, and it must be conceded that it is thought provoking, despite any reservations the reader may have about its overall politics.